Automatic Injectable Powder Filling machine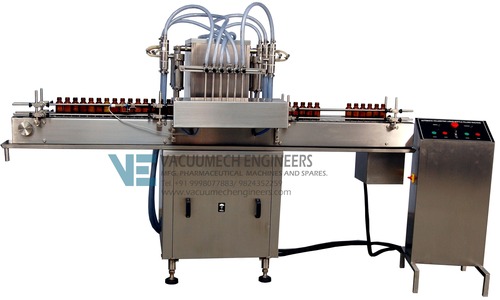 Automatic Injectable Powder Filling machine
Product Code : VFRS 120/240
VFRS 120/240 Automatic Injectable Powder Filling and Rubber Stoppering Machine.
BRIFE DISCRIPTION
We manufacture, supply and export the reliable and performance oriented, widely used Injectable filling machine. The user friendly machines are facilitating with attractive design and finish. A The Automatic Injectable Powder Filling with Rubber Stoppering Machine Model VFRS-120 is suitable for Round Vials with maximum speed of 120 Vials per minute. Specially Machine construction in fully Stainless Steel finish including machine frame structure. Machine with built-in Turn Tables at In-feed and Out-feed with individual drives to match the speed of incoming and outgoing vials for smoother operation. All parts coming in contact with Powders are made from SS316 Materials. The Machine is equipped with Single Head Single Track Eight Port Powder wheel, which works on Vacuum and Air Systems to fill powder in Vials, with on-line Vibrator type Rubber Stoppering system, the stopper inserting system operates in a continuous mode with synchronized speed of machine. Machines also come in various options like Single Track Double Powder Wheel, Double Track Double Powder Wheel, Single Track Single Powder Wheel and Double Track Single Powder Wheel System to match the customers customized requirements. All contact parts made for Good housekeeping and complies as per current good manufacturing practice (cGMP).
SPECIFICATIONS
Single Head Single track Machine.

Apply for any type of Injectable Dry Syrup Powder.

Approximate Speed: Approx 120 bottle/min. (Depending on operator speed & product characteristics).

It is suitable to fill the powders into Vial Bottle only.
TECHNICAL SPECIFICATION
Automatic Injectable Vial bottle Powder Filling Machine and Rubber Stoppering Machine.

Application

Injectable Dry syrup powder filling in vial bottle

Model

VFRS 120 / VFRS 240

Filling

VPW-6 / VPW-9 Powder wheel

Output/Hour

Model: VFRS 120

120 vial/minute for single dosing.

60 vial/minute for double dosing.

40 vial/minute for triple dosing.

Model: VFRS 240

240 vial/minute for single dosing.

120 vial/minute for double dosing.

60 vial/minute for triple dosing.

Filling Range

50 mg to 450 mg by VPW- 6.Powderwheel.

100 mg to 1.5 g. By VPW-9 powder wheel.

Filling Accuracy

±1%Dependinguponconsistencyand Uniformity of bulk

Density of Injectable Powder under controlled Level Of Humidity (Below 28% Rh)

Hopper Capacity

10 L.

Input Specification

Vial Diameter

Vial Height




25mm to 38mm.

75 mm maximum

Change parts Required

Powder wheel (According to filling volume)

Star wheel

Humidity

Below 30% Rh required on machine to be arrange by customer

Air Consumption

Filtered, Oil Free 4kg/cm2 provided by customer only

Vacuum

28" Hg. @ 300 LPM, provided by Customers only, 500LPM recommended

Electrical Rating

Main Motor

Vacuum Pump

Turntable(Scrambler & unscramble)




1 H.P. 415 Volt, 3- PHASE, 50 HZ.

0.5 H.P. 415 Volt, 3- PHASE, 50 HZ.

0.25 H.P. 415 VOLTS, 3- PHASE, 50 HZ.

Power required

415 Volts, 50Hz (3 Phase) + Neutral + Earthing

Electric Load

1.5 kw

Dimensions (in mm)

2000 L x 900 W x 1000 H

Weight

650 Kgs
SALIENT FEATURES
"No Vial, No Filling" system eliminates wastage of costly powder.

Multiple Dosing Systems.

High Volumetric Filling Accuracy of ± 1% of uniform density Injectable powder can be ensured by setting the depth of piston in the port of powder wheel.

Built-in Rubber Stoppering Unit saves lot of space in the Sterile Area & reduces the length of Laminar Flow.

Individual drive for the filling & sealing to match the speed of filling & sealing.

All motors are provided with appropriate contractors and relays for the protection against any overload or jamming.

Safety clutch system to avoid Vial breakage.

Variable AC Frequency Drive for speed adjustment.

VFD for speed control.

Automatic In feed and Exit of Vials

PLC control (optional).

Pure Air Filter (optional).

Vacuum Pump (optional).

ACRYLIC Cabinet covering full machine with S.S. structure (optional).
Note: Specification can be changed as per customer requirements.